Will is a Will-o'-the-wisp Light Fae.
Will

First appearance: Where There's a Will, There's a Fae

Name:

Will

Aliases:

(Unknown)

Status:

Alive

Species:

Will-o'-the-wisp

Affiliation:

Light Fae

Occupation:

Collects precious stones

Known Relatives

Michael Connell (Son, a Human)

Powers:

Causes bursts of fairy fires

Portrayed by:
Character arc
Will is an elusive woodland Fae that lives in the forest outside of town. He spends his nights searching the woods for precious stones.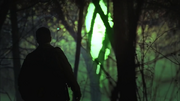 He is related to the Fairy in that he uses well-placed fairy fires to throw off humans who wander into his turf.
He hired Bo to recover his stolen treasure.
Personality
Relationships
Michael Connell: His human son that he had not known about until Michael searched for him.
Quotes
Trivia
Appearances
NEEDS INFO ON WHAT HAPPENS IN EPISODE