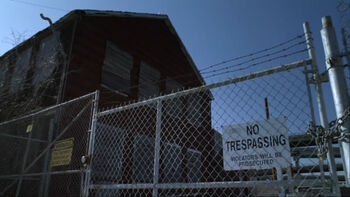 The Clubhouse is an abandoned building that is now the residence of Bo and Kenzi, who also use it to conduct their business from as private investigators.
The interior is partially dilapidated, with lath and plaster exposed, some windows cracked, and several walls missing altogether. The living room ceiling has been shown showering dust when Bo has been in her second-floor bedroom engaging in wild, explosive sex.
Lauren, Tamsin, and even Vex, have been temporary residents.
It was formerly the home, or at least the place, where illegal drugs were once sold by drug dealers. Kenzi fondly called it the "crack shack" in Where There's a Will, There's a Fae.
Trivia
The building seen in the series is located at 154 Villiers Street, Toronto, Ontario, Canada; next to the Don River.
Appearances
(Seen or mentioned throughout the series.)