Stella Nashira is a Light Fae Lodestar that helps Fae prepare for The Dawning.
Stella Nashira

First appearance: There's Bo Place Like Home

Name:

Stella Nashira

Aliases:

None

Status:

Alive

Species:

Lodestar

Affiliation:

Light Fae

Occupation:

Mentor
Trainer

Known Relatives:

(Unknown)

Powers:

Portrayed by:
Character arc
As a Lodestar, Stella has assisted Fae for many centuries. She seems to know more than anyone about the actual process of The Dawning and the preparation for it, as she explained that Succubi naturally take longer to prepare.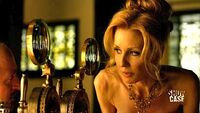 Stella is very serious about her work, often to the effect of coming off as callous. However, outside of her work she does appear to have a softer side, as demonstrated in her romantic relationship with Trick.
Stella seems to possess clairvoyant abilities (e.g. she read Bo's tea leaves).
Personality
Dyson referred to her as a "ball busting bitch."
Relationships
Trick and Stella became lovers as of their first kiss in Fae-ge Against The Machine.
Quotes
Trivia
Stella is Latin for "star", and Nashira comes from the Arabic sa'd nashirah for "the lucky one" or "bearer of good news". Nashira is the name given to Gamma Capricorni, a giant star in the constellation Capricornus.[1]
In celestial navigation, mariners use a lodestar to guide the course of a ship.[2]
Appearances
References
[REMOVE STUB TAG WHEN SUFFICIENT INFO IS PROVIDED]