Stefan is a Light Fae Wolf-Shifter and mercenary warrior.
Stefan

First appearance: BrotherFae of the Wolves

Name:

Stefan O'Breen (full name)

Aliases:

(Unknown)

Status:

Deceased

Species:

Shapeshifter

Affiliation:

Light Fae
Laignach Faelad

Occupation

Mercenary

Known Relatives:

Ciara (Wife)

Powers:

Wolf-shifter
Superhuman strength
Speed
Heightened senses
Agility
Stamina
Longevity

Portrayed by:
Character arc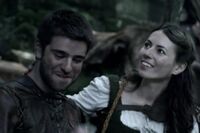 Stefan belonged to the Laignach Faelad pack of wolves, along with Dyson and Cayden, and was a loyal servant of the King of Ailech.
His bride, Ciara, was not a wolf-shifter, but nevertheless taught the Laignach Faelad the art of warrior skills and belonged to the pack.
The King, wanting Ciara for himself, deliberately sent Stefan alone across enemy lines to deliver a battle plan that would secure the Northern and Western territories, knowing that it would lead to his death. Stefan accepted the suicide mission and was killed in an ambush. The King then came for Ciara and made her his Queen the next morning.
Personality
Relationships
Ciara: His wife. He loved her dearly.
Dyson: His pack mate and closest friend. Dyson watched Stefan grow up and become a warrior. They fought side by side. Dyson considered Stefan to be like a brother. Because of his death, Dyson left his wolf pack, severing his allegiance to the King of Ailech and the Laignach Faelad.
Quotes
"Lest you forget, dying for the King is a great honour....I've accepted my fate, friend, nothing can change that." – to Dyson (BrotherFae of the Wolves)
Trivia
Appearances
References