Sleeping Beauty School
Season 4, Episode 2
Air date
November 17, 2013
Written by
Alexandra Zarowny
Directed by
Steve DiMarco
Episode guide
Previous
In Memoriam
Next
Lovers. Apart.
Sleeping Beauty School is the second episode of Season 4.
Writer
Synopsis
Dyson seeks out an Elemental Fae to rescue someone he loves. Meanwhile, Kenzi's stuck on babysitting duty – but her unlikely charge might be the key to cracking the case.
Plot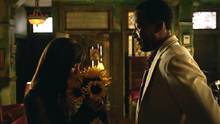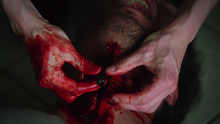 Songs and Music
Comin' Back To You  courtesy APM Music
Country Girl At Heart  courtesy APM Music
Dancing With The Devil  by Life Bitter Soul feat. Diana Studenberg
Dusk In Delphi  courtesy APM Music
She's A Goddess  by Rick Howland
This One's For You  courtesy APM Music
Trivia
Kenzi & Hale admit their feelings for one another and kiss.
NEEDS PLOT NARRATIVE
REMOVE STUB TAG WHEN PAGE IS COMPLETED