Silas is a Dark Fae Wolf-Shifter.
Silas

First appearance: Faetal Justice

Name:

Silas

Aliases:

(Unknown)

Status:

(Unknown)

Species:

Wolf-Shifter

Affiliation:

Dark Fae

Occupation:

Bartender

Known Relatives:

(Unknown)

Powers:

Ability to shift into a wolf
Superhuman strength
Superhuman speed
Heightened senses (smell, sight, hearing)
Stamina and agility
Longevity

Portrayed by:
Character arc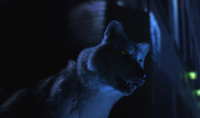 Silas worked as a bartender at Carpe Noctem. He killed a Redcap named Ba'al and framed Dyson for the murder. His motives were unusual for a Dark Fae, since he did it to save a human girl from becoming Baal's next victim.
His fate is unknown, but is probably dead. He was last seen in the clutches of The Morrigan and Vex, with the latter clearly intent on torturing him.
Personality
Relationships
Quotes
Trivia
Appearances
References