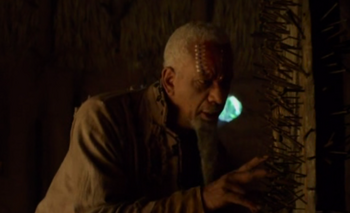 The Shaman is a Dark Fae mystic named Tshombe.
Character arc
When Fae in the Congo were dying from a mysterious virus that was sweeping through villages, Tshombe was ordered by The Ash to put a curse on Nadia, Lauren's girlfriend, to ensure that Lauren would do everything in her power to find an antidote to the deadly disease.
The Shaman used a Cursing nail to hex Nadia. Every nail used by a Shaman has a reason: one put a spell on a violent man who beat his wife and children, and another on a traitor who had led his soldiers into battle where they were slaughtered (Masks).
When a Shaman allows another person to remove a Cursing nail, the instrument to remove the nail is first held with the hands of the Shaman and the person, together, and it glows a fiery orange light as the Shaman pronounces his consent.
The Goddess Ama gave a sacred healing mask to a revered Shaman in Mali that was later stolen by a Preta.
Trick commented that Witch doctors are dangerous (Original Skin).
The characteristics of the ritualistic magic used by a Shaman is unknown.
Trivia
Appearances
References