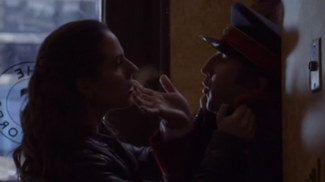 A Sandman is a Dark Fae who can cause people to fall asleep and dream.
Character arc
Frank the Doorman is a Dark Fae Sandman.
Sandman powers are both active and passive. Frank the Doorman was shown to be able to almost "throw" sleeping powder from his body at others, causing them to fall asleep. However, when Bo interrogates him, it is shown that the sleeping powder passively slips off his body "like dead skin".
Trivia
The Sandman is a mythical character in central and northern European folklore who brings good dreams by sprinkling magical sand onto the eyes of children while they sleep at night. Traditionally, he is a character in many children's stories. He is said to sprinkle sand or dust on or into the eyes of the child at night to bring on dreams and sleep. The grit or "sleep" in one's eyes upon waking is supposed to be the result of the Sandman's work the previous evening.[1]
Appearances
References
NEEDS AN IMAGE THAT SHOWS ONLY HIM.
THIS IMAGE CAN BE MOVED TO THE \\CHARACTER ARC// SECTION