Robert Hamelin was a corrupt Light Fae also known as the Pied Piper, Slender Man, and Erlkonig.
Robert Hamelin

First appearance: SubterrFaenean

Name:

Robert Hamelin

Aliases:

Slender Man
Pied Piper
The Erlkonig

Status:

Deceased

Species:

(Unknown)

Affiliation:

Light Fae

Occupation:

City Manager

Known Relatives:

(Unknown)

Powers:

Transfixes prey

Portrayed by:
Character arc
As the Pied Piper, Robert Hamelin had the ability to transfix his victims, capable of completely bending them to their will. The blind could not be affected by this power because they were unable to see him.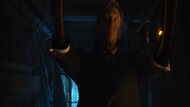 He was able to mesmerize and control Bo and Kenzi.
Personality
Quotes
Trivia
Appearances
References
NEEDS INFO ABOUT CHARACTER AS SEEN IN EPISODE / WHAT HE DID / WHAT HAPPENED TO HIM