Rick Howland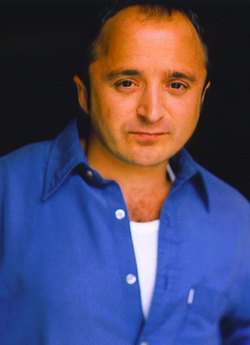 Birthplace
Kingston, Ontario, Canada
Rick (Richard) Howland is a Canadian film and television actor, and musician.
Biography
Career
Howland began with improvisation and an excellent acting teacher. He then spent a few years at a few universities before landing his first gig in a feature film. While at York University he formed the comedy troupe the "Four Strombones". The Strombones performed in comedy clubs around Toronto, Canada, for more than a decade as well as creating a very successful fringe show in 1994. He has hosted comedy shows as well as dabbled in standup comedy. He co-wrote a sit-com called "Rick's Life with Adam Nashman", an industry-based show that offers up the funny through Rick's own unique perspective.
Film roles include Harry Buttman in Bon Cop, Bad Cop (2006).
As a songwriter Rick has been at it since he was seventeen. He spent most of those years practicing and writing on his own. Howland has two self-recorded albums - one done in a studio and one done in a living room.
Rick Howland plays the core character role of Trick / The Blood King in Lost Girl:
Howland appeared as Trick in the following Lost Girl webisode:
Comic Cons and Fan Expos
2011
Fan Expo Canada (Toronto, Ontario, Canada)
2012
Fan Expo Canada (Toronto, Ontario, Canada)
New York Comic Con (New York, NY, USA)
2013
Fan Expo Canada (Toronto, Ontario, Canada)
New York Comic Con (New York, NY, USA)
2014
Central Canada Comic Con (C4) (Winnipeg, Manitoba, Canada)
Chicago Comic & Entertainment Expo (C2E2) (Chicago, IL, USA)
Dragon Con (Atlanta, GA, USA)
Edmonton Comic & Entertainment Expo (Edmonton, Alberta, Canada)
Starfury Faebles Convention (London, England, UK)
Links
Official Fan Site
Filmography
Films
| Year | Title | Role | Notes |
| --- | --- | --- | --- |
| 1997  | The Cellar | Zoltan | Short film  |
| 2000 | Martirio | The Butler | Short film |
| 2005 | Short Tongue Freddy  | Freddy | Short film |
| 2006 | Santa Baby | Mr. Elf | Short film |
| 2006 | Good Cop, Bad Cop | Harry Buttman | |
| 2006 | Citizen Duane | Irate Pedestrian | |
| 2009 | Midgets vs. Mascots | Big Red Bush | |
| 2011 | Underwritten | | Short film (Director, Writer) |
| 2012 | An Insignificant Man | Clown  | Short film |
Television
Year
Title
Role
Notes
1995
To Catch a Yeti
Blubber
TV movie
1998
The Adventures of Shirley Holmes 
Bernie Szabo
Episode: The Case of the Bouncing Baby
1998
Once a Thief
Actor
Episode: Shaken Not Stirred
1999
Traders
Rob 'Tiny' Lewis
Episode: The Last Good Deal
1999
The Jesse Ventura Story
Wrestler
TV movie
2001
Club Land
Gump
TV movie
2002
Escape from the Newsroom
Autograph Hound #2 
TV movie (The Newsroom TV series)
2004
Sue Thomas: F.B.Eye
Sal Roland
Episode: Concrete Evidence
2005
Crazy for Christmas
Kenny
TV movie
2007
The Roommate
Paul
TV movie
2007
Tin Man
Red Hatt
3 episodes. TV Mini-Series
2007–2008
Billable Hours
Computer Tech
2 episodes
2007–2008
Billable Hours
Keach
2 episodes
2008
Murdoch Mysteries
Miles Gorman
Episode: Child's Play
2010–2015 
Lost Girl
Trick
Main cast
does not appear in:  5.14, 5.15, 5.16
2011
Sanctuary
Galvo
Episode: Resistance
2012
Lost Girl Finale Pre-Show
TV Special (Showcase)
2012
Top Chef Canada
as Himself
Episode: Lights, Camera, Action!
2013
Lost Girl ConFAEdential
TV Special (Showcase)
2013
Lost Girl: An Evening at the Clubhouse
TV Special (Showcase)
Web Series
| Year | Title | Role | Notes |
| --- | --- | --- | --- |
| 2013  | Lost Girl  | Trick  | Webisode: Prophecy  (pre-Season 4 special program)  |
| 2014 | The Penumbra  | Stan | 6 episodes |
Biography on Showcase (2013)
Rick Howland (Trick)
Actor and singer/songwriter Rick Howland plays the role of "Trick" -- the bartender with a secret -- in Lost Girl Seasons 1 - 3. Staying in the Canadian Sci-Fi series genre he guest starred in Sanctuary. Rick played Hockey League Commissioner, "Harry Buttman," in Canada's top-grossing film Bon Cop Bad Cop and also starred opposite rock legend Meatloaf in the feature film To Catch A Yeti. His short film credits include the award-winning Santa Baby, Short Tongue Freddy and Martiro. Selected MOW's include Jesse the Body Ventura Story, Tin Man and Crazy for Christmas. Howland wrote his own stand-up routine for Club Land, which was directed by Saul Rubinek. He has shared the small screen with the legendary Jayne Eastwood in Endless Grind and conspired with Peter Stebbings in Traders. Other television credits include Billable Hours, Murdoch Mysteries, The Royal Canadian Air Farce, Sue Thomas F.B.Eye and Train 48.
Selected theatre credits include: Veriété (Volcano), Shooting Penguins (Factory), A Short History of Night (Factory) and Lion the Witch and the Wardrobe (LKTYP). Howland was also a writer and performer in the Four Strombones comedy troupe that toured Toronto's comedy clubs for 12 years.
Rick has written numerous scripts and has recently directed his first short film, Underwritten. You can find his two indie albums on iTunes and Amazon.
You can follow Howland on twitter @Rick_Howland or check out his fan page at http://www.facebook.com/RickHowland.Artist
@ http://www.showcase.ca/lostgirl/lostgirlbios.aspx?n=Rick+Howland+(Trick)
Gallery
Videos
| | |
| --- | --- |
| Richard Howland, K.C. Collins, Lina Roessler (2011 TIFF) | Zoie Palmer, Rick Howland, K.C. Collins, Paul Amos (2013 Birks Tribute TIFF) |
| Season 4 Rick Howland on Trick (Interview) | Lost Girl (Interview) Collins, Howland, Holden-Ried (Chicago C&EE 2014) |
Articles and Interviews
[ if a web page is no longer accessible try a search of the URL on Wayback Machine for a possible archive ]
Exclusive: Rick Howland Talks "Family Portrait" and Remembering Lost Girl
February 29, 2016. SciFi Vision
Lost Girl's Rick Howland Writes an Epitaph for the Blood King
October 11, 2015. The TV Junkies
Getting Lost with Rick Howland and Rachel Skarsten
January 2015. Gay Calgary Magazine (Online)
Lost Girl's Rick Howland: There Are Many More Pages to Trick's Story
December 4, 2014. The Televixen
Rick Howland Interview — Episode 71 [PODCAST]
October 30, 2014. Drinks At The Dal
Rick Howland discusses 'Lost Girl' season four at NYCC
November 3, 2013. Examiner.com
Rick Howland — His Lost Girl Fantasy
December/January 2012-13. ABILITY Magazine
Lost Girl: Interviews with Ksenia Solo (Kenzi), Zoie Palmer (Lauren), and Rick Howland (Trick)
October 24, 2012. Nerd Caliber
Lost Girl Edition - Week 3 [PODCAST]
September 30, 2011. The Showcase Showcast
K.C. Collins, Rick Howland, Steve Cochrane
Lost Girl Edition - Week 2 [PODCAST]
September 23, 2011. The Showcase Showcast
K.C. Collins, Rick Howland, Steve Cochrane
Lost Girl Edition - Week 1 [PODCAST]
September 15, 2011. The Showcase Showcast
K.C. Collins, Rick Howland, Steve Cochrane
Interview: Rick Howland on Syfy's 'Lost Girl' and his part in The World Of Fae
September 5, 2011. Monsters and Critics
References
NEEDS MORE INDEPENDENT (NON-SHOWCASE) INFO