Raoul Trujillo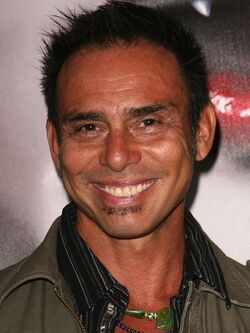 Birthplace
New Mexico, United States
Raoul Trujillo is an American dancer, choreographer, and artist; and television, film, and theatre actor.
Biography
Trujillo trained with the Toronto Dance Theatre and Nikolais/Louis Dance Lab in New York City on scholarships, and joined the Nikolais Dance Theatre under the direction of Alwin Nikolais.
He became the choreographer and co-director for the American Indian Dance Theatre and choreographed, "The Shaman's Journey" for the Asia Society in New York City, which was adapted into a short film for PBS on Alive from Off Center. He joined creative partners Alejandro Roncerria and Rene Highway in Toronto, Canada, and their collaboration resulted in the development of successful theatre pieces for Native Earth Performing Arts. He helped establish the "Aboriginal Dance Project" at Banff Centre.
Career
Trujillo choreographed the dances, ceremonies and rituals for the 2005 historical drama film, The New World.
Television roles include Running Dog in Black Fox (1995), Red Cloud in Into the West (2005), Raw in Tin Man (2007), Long Shadow in True Blood (2008), Queequeg in Moby Dick (2011), Renard in Heartland (2011), Topa Inca Yupanqui in Da Vinci's Demons (2014).
Film work includes Black Robe (1991), Shadow of the Wolf (1992), Highlander: The Final Dimension (1994), The New World (2005), Apocalypto (2006), Cowboys & Aliens (2011), Riddick (2013).
Raoul Trujillo played the role of The Garuda in the following episodes of Lost Girl:
Links
Official Fan Site
References