Rachel Skarsten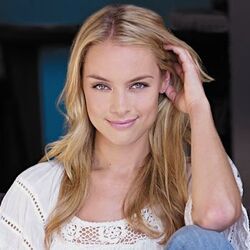 Date of Birth
23 April 1985
Birthplace
Toronto, Ontario, Canada
Rachel Skarsten is a Canadian film and television actress.
Biography
Skarsten studied ballet with the Royal Academy of Dance and visual art and cello at Claude Watson School for the Arts. Skarsten also enjoys skiing, swimming, and played goalie for a hockey team that won the Bantam Toronto City championships. She attended Queens University where she completed her BAH in English Literature and Classical History. Her family lives in Bergen, Norway, where her father grew up. She has a brother named Jonathan Skarsten. Her parents are Mary Aileen Self Skarsten and Dr. Stan Skarsten.
Career
Rachel Skarsten played the role of Tamsin in the following episodes of Lost Girl:
She played a special role in the following episode:
Comic Cons and Fan Expos
2013
Fan Expo Canada (Toronto, Ontario, Canada)
MCM London Comic Con (London, England, UK)
2014
Denver Comic Con (Denver, CO, USA)
Edmonton Comic & Entertainment Expo (Edmonton, Alberta, Canada)
Fan Expo Canada (Toronto, Ontario, Canada)
FantasyCon (Salt Lake City, UT, USA)
Motor City Comic Con (Novi, MI, USA)
Links
Official Fan Site
Filmography
Film
| Year | Title | Role | Notes |
| --- | --- | --- | --- |
| 2002  | Virginia's Run | Caroline Lofton | |
| 2003 | Fear of the Dark | Heather Fontaine   | |
| 2007 | Jack Brooks: Monster Slayer | Eve | |
| 2007 | American Pie Presents: Beta House   | Sharon | Direct to video |
| 2011 | Servitude | Alex | |
| 2012 | The Vow | Rose | |
| 2012 | Two Hands to Mouth | Leah Whitefield | |
| 2015 | Fifty Shades of Grey | Andrea | |
| 2015 | The Red Dress | Patricia | |
Television
Year
Title
Role
Notes
1998
The Famous Jett Jackson
Mickey Twitty
Episode: Vootle-Muck-a-Heey
1998–1999
Little Men
Elizabeth 'Bess' Lawrence
24 episodes
1999
Justice
Actress
TV movie
2000
Angels in the Infield
Brigitte
TV movie
2000
Twice in a Lifetime
Young Julie Adams
Episode: Curveball
2001
Jewel
Raylene Hilburn (age 14)
TV movie
2001
Screech Owls
Suki Sutherland
Episode: A Star Is Gone
2002
Tracker
Jamie Swenson / Lontoria 
Episode: The Miracle
2002–2003
Birds of Prey
Dinah Lance
14 episodes
2003
POV Sports on CBC
Host
Episode: Horsepower
2003
1-800-Missing
Brittney Moore
Episode: Basic Training
2005
Category 7: The End of the World  
Lyra Duffy
TV movie
2010
Made: The Movie
Andi
TV movie
2011
Flashpoint
Natalie Braddock
4 episodes
2011
Awakening
Leila
TV movie
2011–2012
The Listener
Elyse
3 episodes
2012
The L.A. Complex
Roxanne
3 episodes
2012
Transporter: The Series
Delia Weigert
Episode: The General's Daughter 
2012
Beauty & the Beast
Brooke Chandler
2 episodes
2013
Republic of Doyle
Veronica Frye
Episode: Hook, Line and Sinker
2013–2015 
Lost Girl
Tamsin
34 episodes
as Thomasina in Follow the Yellow Trick Road (5.14)
2013
Lost Girl: An Evening at the Clubhouse
TV Special (Showcase)
2014
In My Dreams
Jessa
TV movie
2015
Reign
Queen Elizabeth
as of Season Three
Biography on Showcase (2013)
Rachel Skarsten (Tamsin)
Rachel Skarsten was born in Toronto to a Canadian Mother and Norwegian Father. She has one younger brother. Rachel trained with the Royal Academy of Dance for 12 years and attended Claude Watson School for the Arts from grades four-12. There she majored in visual arts and the cello.
After being discovered by an agent at a memorial for her father, she went on to be cast as a regular in shows such as Little Men before landing her "big break" as a lead in the Warner Brothers television series Birds of Prey.
After filming wrapped Skarsten left Los Angeles and returned to Canada where she completed a double degree in English Literature and Classical Studies at the prestigious Queens University in Kingston, Ontario.
Following this, she returned to acting with arcs on Flashpoint and The Listener as well as work in Canadian Independents such as Servitude and Two Hands to Mouth. Currently she has just wrapped season 3 of Lost Girl and The LA Complex.
In her spare time, Skarsten loves to participate in all things hockey. She played goalie for the Midget AA Leaside Wildcats in high school and now continues to mind the net in a local film-crew hockey league.
You can follow Skarsten on twitter @RachieSkarsten.
@ http://www.showcase.ca/lostgirl/lostgirlbios.aspx?n=Rachel+Skarsten+(Tamsin)
Gallery
Videos
| | |
| --- | --- |
| Lost Girl - MCM Expo London 2013 (Solo, Vaugier, Skarsten, Firestone) | Emmanuelle Vaugier, Ksenia Solo, Rachel Skarsten, Jay Firestone (MCM London CC 2013) |
| Lost Girl Interview - MCM Expo London 2013 (Solo, Vaugier, Skarsten, Firestone) | Rachel Skarsten interview (Lost Girl & 50 Shades of Grey) |
Articles and Interviews
[ if a web page is no longer accessible try a search of the URL on Wayback Machine for a possible archive ]
Rachel Skarsten – Reign
October 9, 2015. Starry Constellation Magazine
AfterEllen 2015 Hot 100
September 1, 2015. AfterEllen
Number 43: Rachel Skarsten
CW's 'Reign' Finds Its Queen Elizabeth in 'Fifty Shades of Grey' Alum
March 10, 2015. The Hollywood Reporter
LOST GIRL's Rachel Skarsten Says Final Season to Air April 9th in the US & UK
February 20, 2015. Nerdist
Rachel Skarsten talks '50 Shades of Grey', 'Lost Girl' and Suetables
February 11, 2015. The GATE
Getting Lost with Rick Howland and Rachel Skarsten
January 2015. Gay Calgary Magazine (Online)
Exclusive Interview: Lost Girl's Rachel Skarsten
December 2, 2014. The TV Watercooler
Rachel Skarsten
November 2014. Midtown Post (Post City Magazines, Inc.)
Rachel Skarsten: Lost Girl's Latest Supernatural Citizen
December 11, 2013. Reader's Digest
AfterEllen 2013 Hot 100
June 25, 2013. AfterEllen
Number 8: Rachel Skarsten
Interview: Lost Girl's Rachel Skarsten talks fandom, cast, and her return as vicious Valkyrie Tamsin
May 30, 2013. NoWhiteNoise
Playing Supernatural Characters w/Cast Members from Lost, Supernatural & Lost Girl
May 20, 2013. NYCastings
References
NEEDS MORE (NON-SHOWCASE) BIOGRAPHICAL INFO
Community content is available under
CC-BY-SA
unless otherwise noted.