Portia is a human.
Portia

First appearance: Faetal Justice

Name:

Portia

Aliases:

(Unknown)

Status:

Alive

Species:

Human

Affiliation:

(None)

Occupation:

(Unknown)

Known Relatives:

(Unknown)

Powers:

Normal human

Portrayed by:
Character arc
Portia frequented Vex's nightclub, the Carpe Noctem, and was one of the humans tortured in the secret BDSM club run by Ba'al .
While talking with Kenzi, she revealed that she was a street kid. Silas , a bartender at Carpe Noctem, would sometimes take her in and give her a place to stay.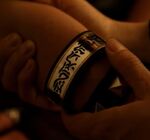 She had a bracelet of his that was engraved with Lycanthrope, the language of Wolf-Shifters.
She had no memory of being tortured due to being administered drugs by Silas in the drinks he mixed for her.
She refused to tell Bo and Kenzi that Silas was the one who actually killed Ba'al.
Personality
Relationships
Quotes
Trivia
Appearances