Of All the Gin Joints
Season 4, Episode 6
Air date
December 15, 2013
Written by
Alex Zarowney
Directed by
Mairzee Almas
Episode guide
Previous
Let the Dark Times Roll
Next
La Fae Époque
Of All the Gin Joints is the sixth episode of Season 4.
Writer
Synopsis
Bo fights for the freedom of a talented opera singer, whose voice could be the key to unlocking the answers she seeks. Meanwhile, Kenzi is threatened by someone from Hale's past.
Plot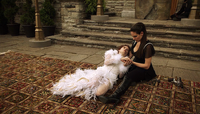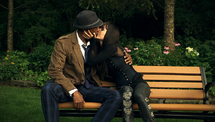 Songs and Music
Breaks Me Down  by Stars and Crosses
For This I Can't Be Sure  by Sunparlour Players
Humours of Glen Dart  courtesy APM Music
I Want the DJ  courtesy APM Music
No Angel  by Yuki
O'Farrell's Jig  courtesy APM Music
Planxty Fanny Power  courtesy APM Music
Trivia
The title is an homage to the 1942 film classic, "Casablanca". After he sees his former lover, Ilsa Lund, in his bar, Rick Blaine says, "Of all the gin joints in all the towns in all the world, she walks into mine."
Before The Morrigan leaves Lauren's apartment she says to her, "I think this might be the beginning of a beautiful...something." At the end of "Casablanca", as the two are walking together into the fog, Rick Blaine says to Captain Louis Renault, "Louie, I think this is the beginning of a beautiful friendship."