Nelson is human juvenile delinquent.
Character Name

First appearance: Delinquents

Name:

Nelson

Aliases:

(Unknown)

Status:

Alive

Species:

Human

Affiliation:

None

Occupation:

Juvenile delinquent

Known Relatives:

(Unknown)

Powers:

Human

Portrayed by:
Character arc
Nelson was one of the delinquent campers at "Camp Fresh Start". He fell in love with Jolene, a social worker at the camp and Tikbalang Fae, and aided her in attacking and killing other teenagers at the camp.
Nelson beat up and tried to kill Lauren as revenge for the capturing of Jolene by Bo and Dyson. His attack against her was interrupted by Bo, who would have killed him if Dyson had not stopped her.
Personality
Relationships
Jolene: his lover.
Quotes
Trivia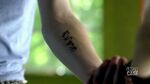 The four symbols tattooed on his left forearm are modified baybayin language characters. They appear to be: D YO LI N.
Appearances