Natalie Brown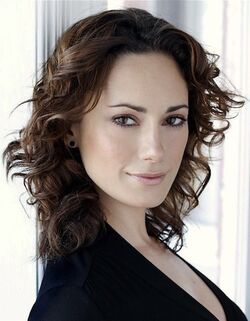 Date of Birth
17 May 1973
Birthplace
Timmins, Ontario, Canada
Natalie Brown is a Canadian model, voice artist, and film and television actress.
Biography
Brown began her entertainment career dancing, choreographing, and acting in high school productions. She landed her first modeling national campaign at age 16, for Bonne Bell. After graduating high school she traveled abroad to Asia; modeling in Tokyo, Japan, while saving for tuition to study fine arts at York University in Toronto, Ontario, Canada; in a program where she was able to combine film, theatre, dance and visual arts.[1]
She gained fame in Canada for her appearance in her first television commercial, the 1991 Heinz Ketchup commercial "Slide", becoming known as the "Ketchup girl". Her 2005 Bailey's Irish Cream "Let Your Senses Guide You" commercials made her a pop-culture sensation as the "Bailey's hot girl".
Career
Television work includes the series Tracker in the episode "The Plague" (2001) as Peggy; Mutant X episode "No Man Left Behind" (2002) as Secretary; 1-800-Missing episode "72 Hours to Kill" (2003) as Denise Whitmore; Sue Thomas: F.B.Eye in two episodes (2003) as Allie; Wild Card episode "Bada Bing, Bada Busiek" (2004) as Faith; Naked Josh episode "The Thrill of the Chase" (2005) as Lisa; ReGenesis episode "Gene in a Bottle" (2006) as Hilda; Covert Affairs episode "I Can't Quit You, Baby" (2010) as Patricia Ridley; Skins in two episodes (2011) as Leslie Campbell; Flashpoint episode "I'd Do Anything" (2011) as Det. Merry Danner; Republic of Doyle episode "High School Confidential" (2012) as Jessica Cowley; The Listener episode "Man in the Mirror" as Dr. Mallory Kesler (2014). She had a recurring role in the ABC drama Happy Town as Carol Haplin (6 episodes, 2010); Canadian comedy Comedy Bar as Sandra Sheriff (5 episodes, 2012); CBC drama Cracked as Detective Rachel Fenton (7 episodes, 2013); Syfy supernatural drama Being Human as Julia (7 episodes, 2012-2014); Space fantasy drama Bitten as Diane McAdams (11 episodes, 2014-2015); and currently in FX horror drama The Strain as Kelly Goodweather (2014-2015). Brown starred as talent agent Sophie Parker on the CBC sitcom Sophie (2008-2009).
Made-for-TV movies include The Crooked E: The Unshredded Truth About Enron (2003) as Amber St. Pierre (Miss April); Descent (2005) as Jen; Something Beneath (2007) as Khali Spence; Fairfield Road (2010) as Wendy Greenhill; Cancel Christmas (2010) as Jeannie Claymore; Exploding Sun (2013) as Cheryl Wincroft. TV mini-series include 10.5: Apocalypse (2006) as Paula.
She was the voice of Atalanta in the animated series Mythic Warriors: Guardians of the Legend (4 episodes, 1998-1999); and Marie Claire in The Dating Guy episode "Boner Doctor" (2009).
In video games she was the voice of Daily Lee in Far Cry 3 (2012); and Kaniehtí:io in Assassin's Creed III: The Tyranny of King Washington (2013).
Film credits include Girl #2 in the thriller drama Here Dies Another Day (1997); Mrs. Sawyer in romantic comedy How to Lose a Guy in 10 Days (2003); Laurie Smith in comedy Welcome to Mooseport (2004); CDC Reporter in horror Dawn of the Dead (2004); Sydney St. James in horror thriller The Last Sect (2006); Heather Miller in horror Saw V (2008); Marie in romance drama Ecstasy (2011); Rebecca in psychological thriller Compulsion (2013); Anna in comedy How to Plan an Orgy in a Small Town (2016).
Brown received a Gemini Award nomination in 2008 for "Best Individual Performance in a Comedy Program or Series" for Sophie episode "Door Number Two".[2]
Natalie Brown played the role of Sabine Purcell, The Stag, in the following episodes of Lost Girl:
Links
Official Fan Site
Articles and Interviews
'The Strain's' Natalie Brown Embraces Her Inner Vampire, Can't Believe Her Luck
July 13, 2014. Spinoff Online (Comic Book Resources)
Natalie Brown: Five facts on the Skins star
March 7, 2011. Chatelaine Magazine
Things are looking up for Natalie Brown
September 29, 2008. The Gazette (Montreal)
Natalie Brown: Nominee for Best Actress, Comedy Program Or Series
September 29, 2008. Playback
Natalie Brown interview with a photo that's still not cropped
October 3, 2007. A-Sides
References