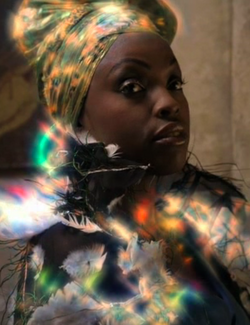 A Lightning Bird is a Light Fae species.
Character arc
A Lightning Bird travels by lightning. It is invisible to other Fae and can be seen and heard only by humans (she talks to female humans only). They like to steal shiny objects from those they help.
Lightning Birds hate it when people stare into their eyes for too long. Their eggs are powerful and witch doctors swear by them to find lost or stolen goods.
Gloris is a Lightning Bird summoned by Trick to communicate with Kenzi and receive an egg from her. He needed the egg to use in a recipe that would help him locate the missing Coin of Jahayla.
Trivia
Lightning Birds are based on the creatures of the same name from South African tribal folklore.[1]
Appearances
References