Jesper

First appearance: Dead Lucky

Name:

Jesper

Aliases:

Jesper Salming (full name)

Status:

(Unknown, possibly deceased)

Species:

Hrimthurs

Affiliation:

Dark Fae

Occupation:

Owns back-room gambling business

Known Relatives:

(Unknown)

Powers:

Turns fingers into spikes of ice
Freezes bodies to death

Portrayed by:
Character arc
Jesper tried to kill Bo and was stopped only by the timely arrival of Kenzi.
As a Hrimthurs (also known as a "Frost Giant") his touch can stop a man's heart. He turned his thumbs into hard, sharp-pointed icicles and drove them into Bo, slowly freezing her.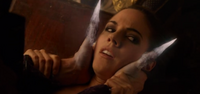 He had enormous physical strength and resilience, and was still moving even though impaled through the chest, and possibly heart, with a metal rod.
Personality
Relationships
Quotes
Trivia
Appearances
References