Inga Cadranel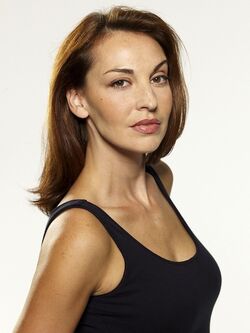 Date of Birth
30 April 1978
Birthplace
Toronto, Ontario, Canada
Inga Cadranel is a Canadian television, film, and theatre actress.
Biography
Cadranel is the daughter of playwright-actor-director Maja Ardal and actor-director Jeff Braunstein. Her brother is actor Paul Braunstein. She studied at the acclaimed Studio 58 theatre school in Vancouver, British Columbia, Canada.
Inga Cadranel is married to actor Gabriel Hogan and they have a son.
Career
Television work includes the series Relic Hunter in the episode "Gypsy Jigsaw" as Nadia (2000); Earth: Final Conflict episodes "Subterfuge" (2000) as Estrella and "Entombed" (2001) as Agent Moxsan; Degrassi: The Next Generation episodes "Back in Black" and "Time Stands Still: Part 2" (2004) as Rachel Rhodes; Kojak episode "Pilot" (2005) as Detective Washburn; Republic of Doyle episode "Hit and Rum" (2010) as Terri Bishop; Copper episodes "Husbands and Fathers" and "Surviving Death" (2012) as Contessa Popadou; The Listener episode "Caged In" (2013) as Margo Furmanek. She had a recurring role in Leap Years as Frannie Batista (8 episodes, 2001); The Eleventh Hour as Brooke Fairburn (10 episodes, 2002-2005); M.V.P as Zita (3 episodes, 2010); Orphan Black as Detective Angela DeAngelis (14 episodes, 2013-2014); The Strain as Diane (4 episodes, 2014); Backstrom as Chief Anna Cervantes (3 episodes, 2015). Cadranel starred as Liz Santerra in the CTV comedy Jeff Ltd. (2005-2007); Francesca in the Showcase comedy Rent-a-Goalie (2006-2008); Jill in the CTV police drama The Bridge (2010). Made-for-TV movies include Gossip (2008) as Laura Lawton; Silent Witness (2011) as Vanessa Ramos; Fir Crazy (2013) as Nanci.
Film credits include Veronica in the romantic comedy The Art of Woo (2001); Linda in the thriller Killshot (2008); Angie Turner in the mystery drama The Riverbank (2012).
Cadranel was nominated for a Gemini Award in 2009 for "Best Ensemble Performance in a Comedy Program or Series" (Rent-a-Goalie); in 2008 for "Best Ensemble Performance in a Comedy Program or Series" (Rent-a-Goalie); in 2007 for "Best Ensemble Performance in a Comedy Program or Series" (Rent-a-Goalie, Episode 6). She won the 2007 Canadian Comedy Award for "Pretty Funny TV Female" for her performance in Rent-a-Goalie.
Inga Cadranel played the role of Saskia and Aife, a Succubus, in the following episodes of Lost Girl:
As Saskia in:
As Aife in:
Links
Official Fan Site
Gallery
Videos
Articles and Interviews
[ if a web page is no longer accessible try a search of the URL on Wayback Machine for a possible archive ]
INTERVIEW: Inga Cadranel (Detective Deangelis) from Orphan Black
May 30, 2013. The TV Chick
Inga Cadranel talk about her role in BBC America's hit show "Orphan Black"
April 13, 2013. Media Mikes
Cable TV's Sexiest New Sci-Fi Detective!
April 7, 2013. HorrorNews.net
2Profile: Inga Cadranel & Gabriel Hogan
Spring/Summer 2010. 2 For Couples
INGA CADRANEL
June 9, 2008. TORO Magazine
References
Community content is available under
CC-BY-SA
unless otherwise noted.