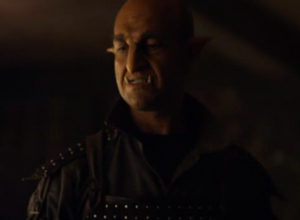 A Goblin is a Dark Fae species that likes to inflict pain.
Character arc
The Goblin has no regard for Fae or human rules. It is used as a hitman and once it accepts a mark, it does not stop until it kills the target (Fae Day).
The Goblin has superhuman strength and speed. It is also said to possess various magical abilities.
Puca, a goblin, did the bidding of the underworld maze by biting Bo on her thigh to entrap her in Tartarus (Like Hell Pt.2).
Trivia
A goblin is a legendary evil or mischievous illiterate creature, described as a grotesquely evil or evil-like phantom. They are attributed with various (sometimes conflicting) abilities, temperaments and appearances depending on the story and country of origin. In some cases, goblins have been classified as constantly annoying little creatures somewhat related to the brownie and gnome. They are usually depicted as small, sometimes only a few inches tall, sometimes the size of a dwarf.[1]
Appearances
References
NEEDS INFO ABOUT WHAT HAPPENED IN 1.09
AND OF GOBLIN IN 5.02