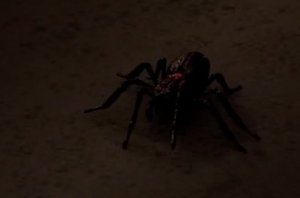 The Djieiene is an Under Fae large spider.
Character arc
It injects a venom into its victims resulting in hallucinations and paranoia. Symptoms also include headache, itching, and bouts of aggression and rage. The Djieiene creates a magnetic field around itself and uses it to feed off the negative emotions it causes in its victims.
Unfortunately, the aggression and conflict it causes often lead to the victims killing each other. Lauren commented that a single Djieiene is attributed with causing a conflict in a mine that led to the deaths of almost 600 people. It feeds off human and Fae alike.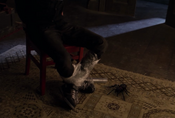 The creature is capable of removing its own heart, which it then implants in a safe place, such as a person. So long as the heart is not destroyed the creature is indestructible.
When Bo and Kenzi cut one in half, the two parts rejoined almost instantly. The creature will only die if its heart is destroyed.
Trivia
The Djieien is a legend of the Seneca people. A boy, Ot'hegwenhda, went in search of his father, Hagowanen. He came upon a Djieien, a six-feet tall spider, at the edge of the woods. The creature ran away as fast as he could until it reached a lodge slightly sunken into the ground. Ot'hegwenhda heard crying coming from inside the lodge and thought the sound resembled his father. He took out a fetish which came to life and he asked it how he could kill the Djieien. The fetish told him to climb high on a tree and call out "I am Ot'hegwenhda and more powerful than anything under the Blue Sky. I can kill any kind of game one earth." When he finished, he had to cut a limb from the tree and while throwing it at the ground, command it to split the spider's heart in two. The heart was in the ground under the lodge. Ot'hegwenhda did as directed by the fetish. The limb of the tree went under the lodge to the place where the heart was hidden and Djieien died. Ot'hegwenhda found his critically injured father inside the lodge and rescued him.[1]
Appearances
References
NEEDS INFO ON HOW THE SPIDER'S HEART WAS FOUND
WHAT LAUREN DID TO IT
WHAT HAPPENED AFTERWARDS