Christine Horne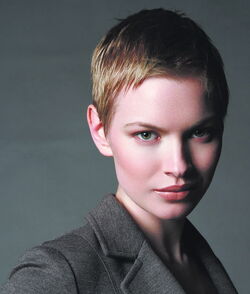 Date of Birth
14 December 1981
Birthplace
Aurora, Ontario, Canada
Christine Horne is a Canadian theatre, film, and television actress.
Biography
Christine Horne is a graduate of the theatre program from York University in Toronto, Ontario, Canada.
Career
Two years after graduating from York University, Horne made her feature film debut as young Hagar Shipley in The Stone Angel, sharing the role with Academy Award winner Ellen Burstyn. For her work, Horne was nominated for the "Vancouver Film Critics Circle Award," and the "Geraldine Page Best Actress" award at the Method Fest Independent Film Festival. Subsequent credits in film and television include Vicky in The Captive (formerly Queen of the Night), Suzanne in Tru Love, Desdemona in Othello, Jane in Margarita, Ellie in Sex After Kids, Sylvia in Dorsal, Anna Quinn in Played, Sadie in The Untitled Work of Paul Shepard, Sara Kominski in Flashpoint, Lidia Hannah in Rookie Blue, Melanie Meadwell in Befriend and Betray, Kim Ryan in Republic of Doyle, Sveltlana Tsiolkovsky in Murdoch Mysteries, Amada Jacobs in King, Svetlana in Borealis, Irina in Anthony Zuiker's Cybergeddon Zips, Dr. Janis in H.M.S.: White Coat, Amber in The Dresden Files; and the shorts We Wanted More as Hannah, Happy Pills as Ava, The Reception as Mariah, Flutter as Mom, and Rung as Nancy (which made its international premiere at the Tribeca Film Festival).
Horne has also worked extensively on the stage, with credits including the world premiere of Between the Sheets (Nightwood), award-winning ICELAND at Summerworks, Daisy Buchanan in The Great Gatsby (The Grand), Hermione in Adromache (Necessary Angel, "Dora Mavor Moore Award" nomination), Juliet in Romeo and Juliet (Canadian Stage), The Governess in The Turn of the Screw (DVxT) for which she won the "Dora Award", Miss Julie in Miss Julie: Sheh'mah (KICK Theatre, "Dora Award" nomination), Viola in Tweltfh Night (Resurgence), Bluebeard (Toronto Fringe), Nina in The Seagull (Wordsmyth), and Gorey Story (Thistle Project) which she co-created (4 "Dora Award" nominations).
Christine Horne played the role of The Keeper, an Una Mens, in the following episodes of Lost Girl:
Links
Official Fan Site
References
Community content is available under
CC-BY-SA
unless otherwise noted.